OUR NATURAL STONE QUARRIES
With several quarries in operation, Montana Rockworks is able to supply a large variety of stone, for any type of Thin Veneer, Architectural or Landscape project. We're able to select, procure and ship dozens of varieties, as well as one-of-a-kind specialty stones for custom projects and landscapes.
McGregor Lake
Perched high, in the forest of Northwestern Montana, the McGregor Lake quarry overlooks its namesake. McGregor Lake is a prized variety of the popular Chief Cliff argillite. Quarried from a cliff formation, the stone from this quarry is visually stunning; predominately light gray in color, with strong gold bronze and tan tones. The dendrite fern patterning creates the striking look of natural, individual artwork. With the warmth of a Big Sky Country sunset and naturally recta-lineal shaping, McGregor Lake is unparalleled in versatility.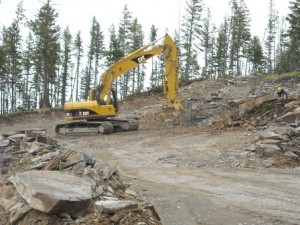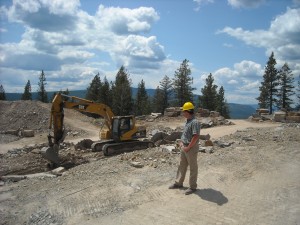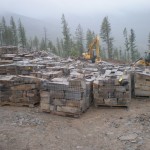 Moose Mountain
The incredible stone from the Moose Mountain quarry elicits constant compliments. The colors are grounded in a dark, smoky gray, with dark chocolate brown and tans that blend together for a remarkable material. Stone from Moose Mountain marries the colors from the nearby Castle Rock and McGregor Lake quarries, which make it an excellent choice to blend with our most popular Chief Cliff stones. The inspiration of this Montana, mountain ridge quarry, can be seen in every stone.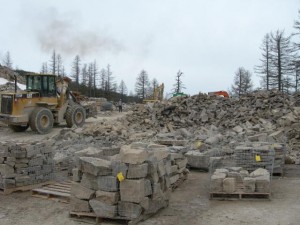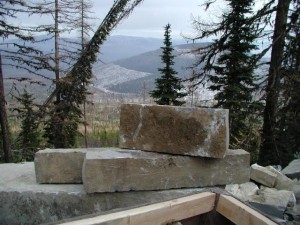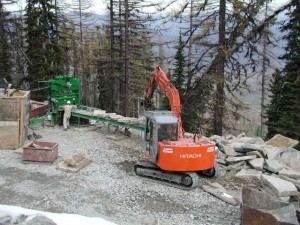 Castle Rock
With birds-eye views of two different valleys, Castle Rock is a high alpine quarry perched on a ridgeline. The core of the stone is light gray, with surface coloring ranging from light tan to dark chocolate brown. Castle Rock is hand and machine picked, the dark, common, patina is from centuries of exposure to the elements. When "Chief Cliff" is mentioned, most visualize the dramatic coloring found in this quarry.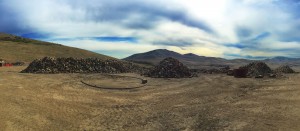 Montana Antique – Autumn Gold – Autumn Flame
This quarry produces three of our gorgeous stones in many grades; Montana Antique, Autumn Gold and Autumn Flame. The lower elevation of this quarry allows us to operate year round which is an enormous benefit with the winters in Northwest Montana. The color tones produced out of this quarry include, gold, copper, greys and rust tones.
---
OUR SAW FACILITY
Montana Rockworks' saw facility is equipped with several saws for cutting thin veneer and cut back flats and corners. Our saws have been upgraded for limited waste, higher production and a safer environment for our sawyers. This facility is located in close proximity to our quarries resulting in more efficient fuel consumption and less greenhouse gasses emitted when transporting raw materials to the saw facility.